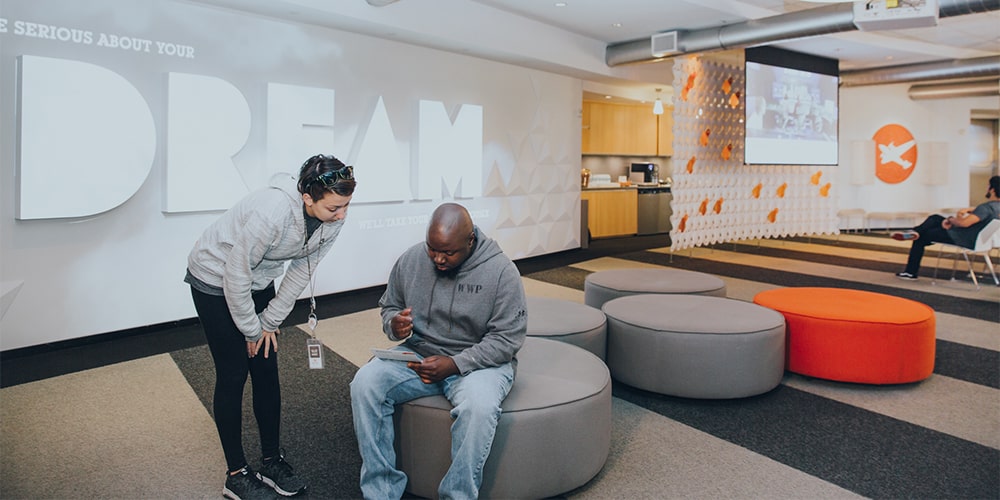 Online Support
Full Sail Support Specialists can assist with resolving technical issues associated with the functionality of the online platform.

You can reach Online Support by phone at 877-437-6349 or by email at FSOSupport@fullsail.com.
Housing Resources
All students are encouraged to contact the Housing Resources department for assistance in finding suitable housing accommodations, as well as information on roommates and local services. This assistance is offered at no charge.
International Student Center
International students may be assisted by the International Student Center in matters regarding visa status. International students are welcome to seek assistance with issues of daily living such as opening bank accounts, obtaining driver's licenses and medical insurance. The International Student Center works closely with other Full Sail staff members to ensure a smooth transition for students from other countries attending Full Sail.
Services for Students with Disabilities
Full Sail is committed to providing equal access to all students, including those who qualify as persons with disabilities. While upholding this commitment, Full Sail also expects all students to maintain the high standards of academic achievement and excellence that are essential to the integrity of the school's mission. By advancing these aims, Full Sail ensures that its policies, practices, and procedures conform to federal, state, and local statutes and regulations.

Provide written documentation to the Director of Student Affairs or Director of Student Success regarding the nature of your disability and any reasonable considerations/ accommodations that may be necessary. Such documentation must: (1) be from an appropriate professional, (2) not be more than three years old and, (3) provide a clear understanding of how the student is presently functioning. Full Sail's confidentiality policy provides that only the appropriate Full Sail personnel access this information and it is stored in separate, confidential files. Except in instances of health or safety, information concerning the disability, accommodations, or documentation will not be released without written consent.
Provide ample time when requesting a reasonable accommodation(s). Requests must be evaluated and arrangements made prior to the anticipated need for service/ support. Full Sail cannot guarantee that appropriate accommodations/services can be put in place without sufficient lead-time to make arrangements. Whenever possible, please provide at least 60 days advance notice. The Director of Student Affairs, assigned by the President, makes determinations of reasonable accommodations for students with disabilities. Fax documentation to (407) 552-2072.
Academic Success Department/Personal Advisement
The staff of the Academic Success Department works collaboratively with
the students, faculty and administration to create a positive environment for development throughout our student's academic journey. We aim to provide support and encouragement that enables our students to develop character and integrity while expanding their competency and skills. We strive to endorse learning in the classroom and in the community, not only through academics but through personal growth and maturity.
The Academic Success Department provides services through Academic Advising, Student Records, Student Success Seminars, Global Professionalism Standards, and the Library. We work closely with the faculty to ensure the best support services for all students.
Academic Advisors can assist with scheduling issues, leaves of absence, community referrals, and can act as a contact for parents. Academic Advisors are available during regular office hours Monday through Friday, either by appointment or on an availability basis. Some Academic Advisors are available by phone until 9:00pm on Monday through Thursday evenings.

The lobby of Full Sail 3B (FS3B) and the lobby of Full Sail Bldg. 2 is manned by support staff 24 hours a day. There is also a security team on the premises 24 hours a day for emergencies.
The Student Success Seminars
The Student Success Seminars, unique to Full Sail and available online and on campus, are offered as a service to Degree-seeking students. These optional classes in human performance enhancement are not remedial classes, but have been designed specifically to help students perform well within Full Sail's immersive Degree Programs. The Student Success Seminars are designed to help students acquire tools for building competency, self-esteem and self-management. Topics covered include discussions about study skills and test-taking strategies, developing positive strategies for dealing with life circumstances and relationships, managing stress, balancing logic and emotion, creative and critical thinking, budgeting and money management, and time management. There are no fees for these seminars and they may be prescribed, when indicated by lower than expected academic achievement, by the Director of Student Affairs.

Students who successfully complete five (5) Student Success Seminars receive ten (10) points that they may apply at graduation to any course they successfully complete. These points may not be separated, nor can they be applied to test-out scores. Likewise, they cannot be used to change a failing grade into a passing one.